Justice for the Worcester, MA Kittens shot with pellet gun! - The Petition Site
Two kittens found injured with pellet gun wounds have died, despite the attempts of a dedicated "cat person" and a Weymouth veterinarian to save their lives.

Deborah Young, who works at Standard Auto Wrecking on Granite Street, said a man contacted her last Friday, saying he had found a female kitten that had been shot in the head and neck.

He handed over the badly wounded animal, wrapped in a blanket. The next day, the man found and turned over a second kitten, a male, which had been had been shot in the rear.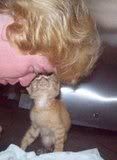 Both of the kittens, which were used to humans and not feral, Ms. Young said, were found lying on Canterbury Street in south Worcester.

Despite the efforts of Deborah M. Lindsey, a veterinarian at the Weymouth Landing Cat Clinic, the kittens could not be saved. She removed the pellet from the female kitten's neck on Saturday, and with lots of attention and nursing from Ms. Young, the kitten's condition initially had improved.

Dr. Lindsey said she could feel the pellet through the kitten's neck and it was lodged up against her jugular vein. She removed the pellet and saved it for Worcester police as evidence, but said she was concerned about fragments the pellet left behind.



"This is so sad, I had to put the little girl down this morning," Dr. Lindsey said today. "She was doing so well for a couple of days, but her temperature was up. I think the infection was so bad."

The male kitten survived for about 24 hours before a serious infection set in, and it was euthanized.

"He was the cutest little kitten," Ms. Young said of the male kitten.

The pellet in the male kitten penetrated right through him, Dr. Lindsey said. "Basically he was leaking fecal material all over him," she said.

On top of the suffering inflicted from the mushroom-type pellets, both kittens were infested with fleas.

"I'm just concerned about how many more are out there, "Dr. Lindsey said. "There were very friendly cats, and not all scared of people."

Ms. Young said she promised two kittens before they were euthanized that their lives would not be in vain.

She promised she would get up the courage to speak out about the extreme cruelties the kittens endured before succumbing to their injuries, and work to stop the senseless shootings of innocent animals.

"They didn't deserve to end up like this," Ms. Young said. "I guess I just want justice for these cats."

She is calling for someone to turn in the person or persons responsible for shooting the kittens. She said she has heard about two other cats in the neighborhood, both pets, which had suffered pellet gun wounds.

Ms. Young said she feeds a feral cat colony on Southgate Street, one street over from Canterbury Street, and is well-known in the area for her devotion to cats. She said many people regularly come to her for advice on cats.

"Kids talk, and maybe some kid talked in school, "Ms. Young said. "I'm hoping that some parent or teacher will call the police to report it."
By Linda Bock TELEGRAM & GAZETTE STAFF

AN ADULT CAT WAS ALSO SHOT AND KILLED. THIS CAT WAS OWNED AND LOVED. WE NEED TO BE A VOICE FOR THESE HELPLESS ANIMALS AND LET THE CITY KNOW THAT WE WILL NOT STAND FOR THIS KIND OF VIOLENCE!